Personalised Belt Buckle For Sale
The belt is the most used accessory by men today. Although women do not use as much as men, the use of belts is common among women. Of course, when choosing a belt we pay attention to many features. Especially the belt buckle, the color of the belt buckle, the color of the belt, the structure of the belt, such as many details are the main features that we pay attention to when buying a belt.
The most common of these details is the structure of the belt buckle. eykametal.com/belt-buckle-manufacturers
Belt buckles can be of different types, but can also be classic belt buckles. The classic belt buckle, for example, is the most widely used flat and detailless belt buckles in daily life that we all know. Classic belt buckles are the biggest representatives of simplicity and elegance.
In addition to this, personalised belt buckles are a premium model for today. With personalized belt buckles you can reflect the style you want. For example, personalised belt buckles can be imprinted, inscribed, or even made up of letters and initials. Eyka one of the best personalised belt buckle for sale company.
There are many companies that sell custom belt buckles. The most important point to note here is the quality of the belt buckle. You don't always get a belt or you don't have a different belt buckle all the time. So the quality of the products you will always get in the forefront.
As Eyka, we are producing belt buckles for you. We use zinc alloy by manufacturing belt buckle. Because the zinc alloy is a very durable and robust alloy. There are different elements in this alloy.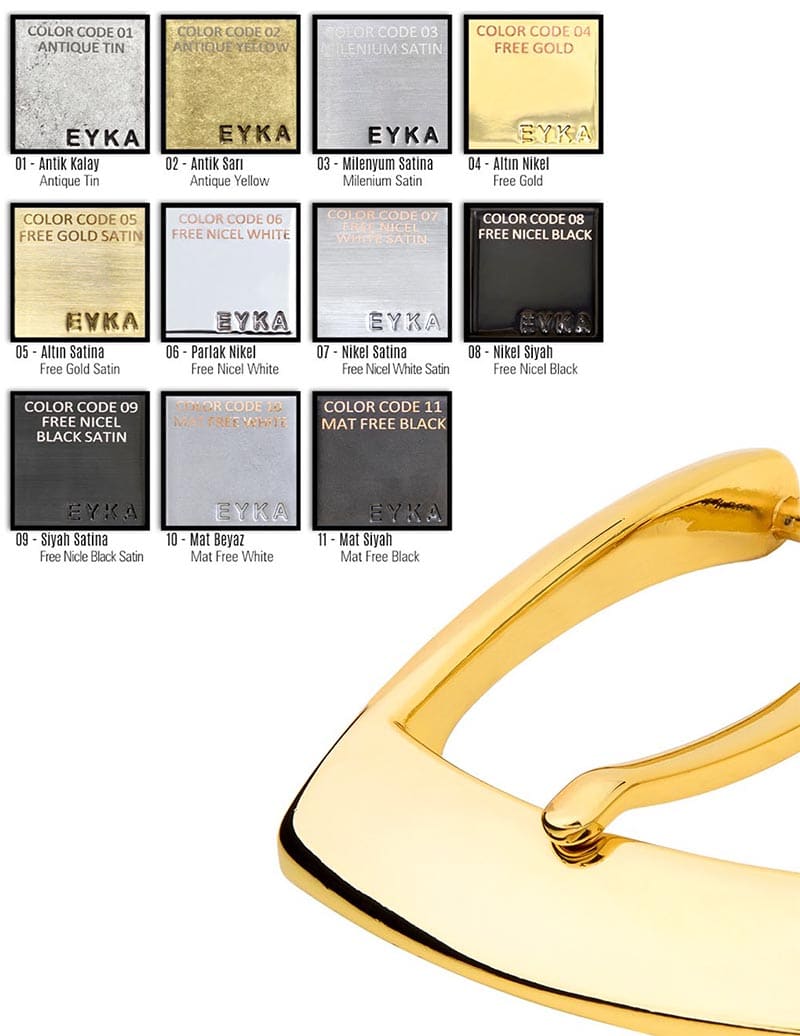 And with the added elements, the color of the belt buckle also varies. For example, you can make your belt buckles in gold, silver or copper. Or you can order belt buckles in intermediate colors.
There are many reasons why we prefer zinc alloy in manufacturing. Let's list a few of these for you now.
Zinc alloy is a very durable alloy.
The main reason for its use in manufacturing is its corrosion resistance.
It is an alloy where you can get a quality look.
As you know, it is very important that a belt buckle is resistant to corrosion. Belt buckles should not be worn because they are used outdoors. Thanks to these wear-free buckles, you will have a long-lasting belt buckle.
First of all, we want to know that we do wholesale belt buckle. We work with very large belt companies to produce the most suitable and durable belt buckles.
So, we are the first company that comes to mind when it comes to professional belt buckle manufacturing. We have many references worldwide. eykametal.com/custom-belt-buckles
Custom Belt Buckles Makers

We can also produce belt buckles with letters if you wish. Especially in recent years, very commonly used letter belt buckles give your belts a different air. It is also a custom-made accessory for you to better reflect your style.
As you can see, belt buckle manufacturing is an art. You show us your art by making us belt buckles. You can add meaning to your style with creative and personalised belt buckles.
There are many belt buckles we manufacture. Classic belt buckles, sports belt buckles, plain belt buckles are available on our website, such as many features.
At the same time, engraved belt buckles are a very preferred model today. Engraved belt buckles combine classic with modern to create a beautiful combination.
Another fashion model that combines vintage and modern is cowboy belt buckles. Cowboy belt buckles are a nice choice if you want to reflect your different personality.
Belt Buckle as a Gift

Imagine that you gave a personalised belt buckle to a person you love. We are able to guess how happy they become. Another trend of our day is to make a belt buckle as a gift to your favorite people. It is a product that is not considered by many people as a gift and makes you feel special to the person you really will get as a gift.
If you want, you can get a belt buckle from the first letter of the person you will receive a gift. You can print that person's name if you want, or you can make different designs.
As you can see, the belt and buckle have a very wide place in our lives. Apart from the belt buckle, we also manufacture wristbands and bracelets as well as bag accessories. Please contact us for more information about our manufacturing process and distribution system.
If you want to buy someone a gift, the personalised belt buckle is perfect choice for you. Such a gift makes everyone feel more valuable and happy.
So if you want to make your loved ones happy, you can choose such a product. Trust us and order only. We'il take care of the rest of the details.
Eyka is Turkey's best manufacturer of belt buckles companies. Please contact us for more information.
For more;  eykametal.com/contact-us